We decided to mostly go chill in honor of most of the guild celebrating Thanksgiving with family and friends. We slaughtered and ate a whole lot of turkey and pie, but we also snuck in some dragons too!
Teaming up with our Europa and Omni pals, we managed to kill a few dragons, including...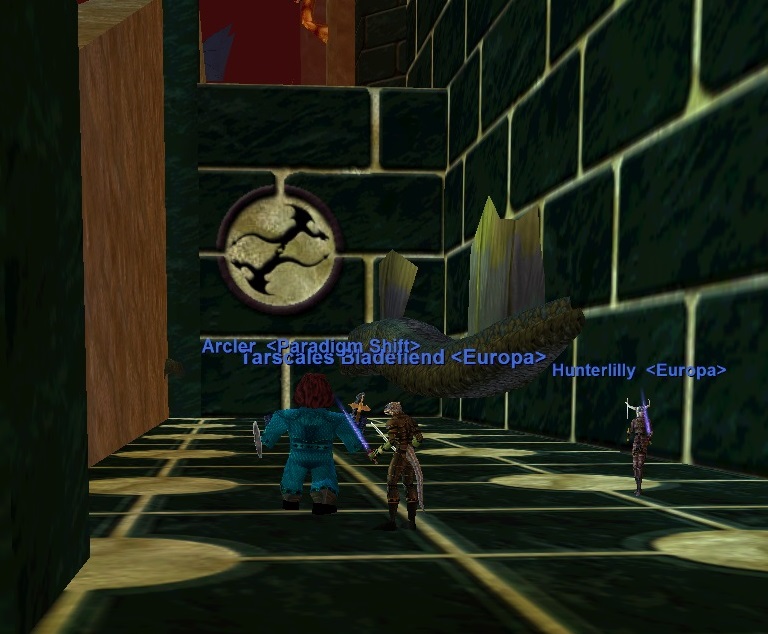 Lord Koi'Doken! Congratulations Splendifity on Sea Dragon Meat, and Europa and Omni on Greaves of the Deep Sea!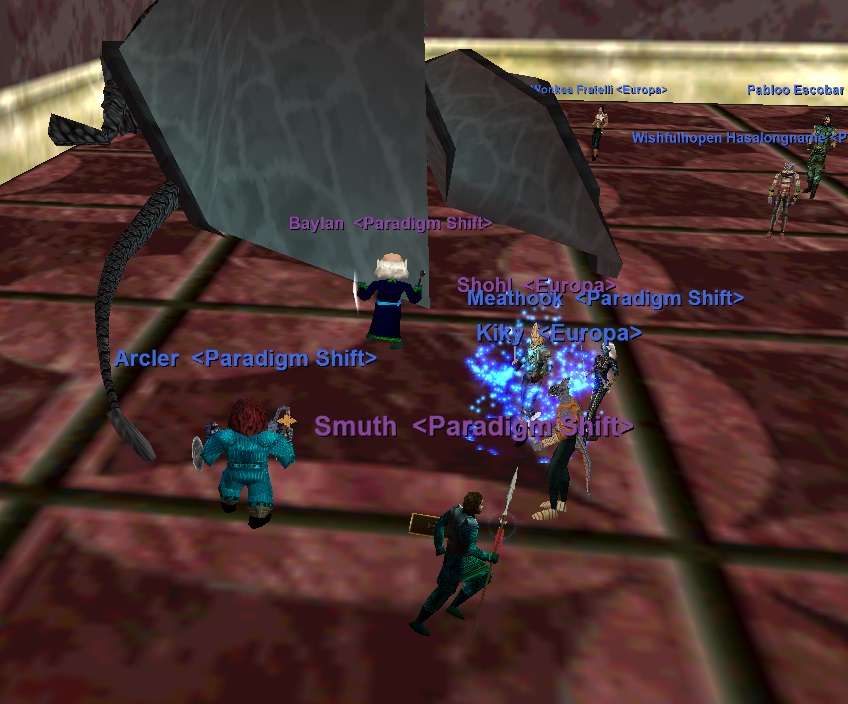 Sevalak! Congratulations Ciniel on Great Spear of Dawn!
Apparently, the carnage at our failed Zlandicar and successful Klandicar destroyed the camera film! So no photograph unfortunately! But congratulations Logaine on an ST key. We now have 3 keyed clerics, and are getting close to having a solid ST crew!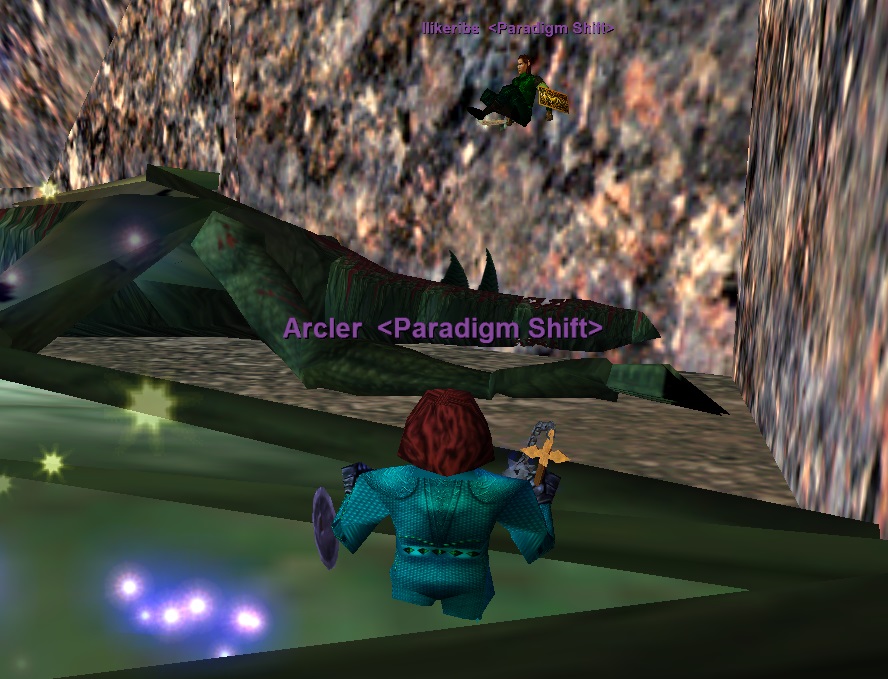 We also managed to snag a very early morning but flawlessly killed Trakanon! Congratulations Muppet on Manna Robe and Treeplanter on Tolan's Breastplate! Congratulations to our Europa and Omni morning pals on 2 teeth apiece!
Paradigm Shift is having fun but keeping it chill and relaxed as well! If you're looking for a guild that knows how to go big but also how to go home and relax, then apply today!
It's been a fun few weeks in Paradigm Shift!
I want to personally thank everyone who came out and helped me complete a Ring of Dain Frostreaver IV! Congratulations to Smuth on Earring of the Frozen Skull, Mightydorf on Faceguard of Bentos the Hero, and Aaalien on Eye of Narandi! Also our sincerest thanks and congratulations to our AEGIS pals, who snagged Choker of the Wretched, Crown of Narandi and Narandi's Lance!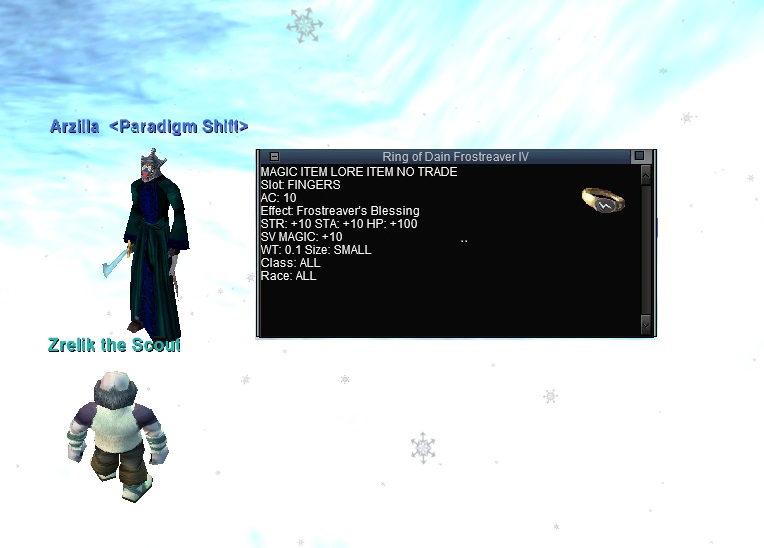 Speaking of giants - we have killed our favorite giant, Derakor the Vindicators, so many times these past few weeks. Congratulations Stabithaa (Living Thunder Earring), Jfontanez (BP), Zitsa (BP, Boots), Grumpet (BP), Hodorr (BP) - and to anyone I might have somehow forgotten!
We also had a very successful Chardok royal run that let to the completion of a new cleric epic for our friend Indiica - congratulations! Jigabrew and Warogre also snagged Singed Scrolls from the King, and Zitsa, Warogre and Jfontanez also snagged Ancient Blades from the Queen! This was our first Chardok run in what felt like forever, and we got it done fast and well - good to know we still know how to do it up!
We've also had two excellent weeks of Plane of Sky clears in a row, where we've finished in 2 hours!
Last week we also went dragon hunting, and while many eluded us at night, we were still on the prowl in the morning with our friends in Europa & Omni.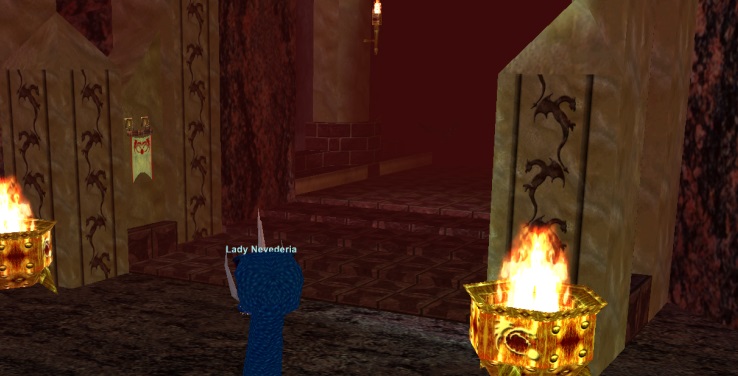 Here's Lady Nevederia, completely unsuspecting of what's about to happen to her! When she finally fell she had a few nice goodies for us, and so congratulations to Wishfulhopen on Nevederia's Left Eye and our pals at Omni on Nevederia's Claw.
We also managed to find and kill Gorenaire, despite her clever disguise as Lord Nagafan! Congratulations to our pals in Europa on White Dragon Scales and Shield of the White Dragon, our pals at Omni for Kavruul's Mystic Pouch, and Jigawatt for his shiny new Dragon Hero Bracer!
Paradigm Shift keeping it classy (and classic!) with raids new and old. Come join the fun!
Awesome competitive pull and wild kill of Lord Vyemm tonight with Azure Guard pals. We also snagged a pretty loaded Eashen of the Sky and narrowly missed FTE on Lord Koi'Doken. Fun times in ToV!
Congrats Wyman on Silver Whip of Rage and Rahlae on Ring of the Sky. AG picked up a Silver Bracelet of Rage and Claw of Lightning. We downed Cekenar earlier in the day as well -- congrats to our Europa friends on Silver Dagger of Destruction. More of this to come!
UPDATE -- Early clean up of dragon leftovers with E/O went quite well: Ikatiar the Venom, Zlexak, Sevalak, Silverwing and Nexona were slayed. Congrats Zarnia on Tvenken's Slippers of Silence, Drgonzo on Axe of Resistance and Izro on Bo Staff of Trorsmang!